Support us by donating!
As an unfunded organisation, we rely on the generosity of people like you.
All donations over $2 are tax deductible and you will be issued with a receipt upon completion of payment.
TransFolk of WA Inc. is registered as a charity with the Australian Charities and Not-for-profits Commission. ABN: 25 897 942 199
Support the trans community
Your donation will enable TransFolk of WA to continue to serve the trans, non-binary and gender diverse community throughout Western Australia. We are a grassroots organisation who relies on the generosity of people like you.
TransFolk of WA is often a first point-of-call for families, young people, people questioning their identity, people in need social support, and people looking for information or resources about trans and non-binary identities. By donating, you can make sure we are available when people need to talk to someone who understands what they are going through.
What can you do:
 $20 pays for tea/coffee and snacks for one of our support groups. This helps people feel more at home and comfortable – which is really important for folks who are struggling.
$50 pays for craft supplies for a group. We often have a craft activity at events and groups as it provides a useful focus for people who are nervous about meeting other trans people or might not be ready to chat about what's going on for them. Examples include: self-care kits, pom-poms, painting supplies, tye-dye tshirts, and more!
 $100 pays for venue hire for one of our community events. These events are an important addition to our calendar and create a place for people to be themselves and meet other people. Examples include our Trans Day of Visibility Fair, our Tie Dye Day and our self-care workshops!
$500 pays for training for our volunteers to learn skills in supporting people in emotional crisis or learning ways of sharing their lived experience story. Volunteers are the backbone of our organisation, and we want to equip them with the necessary skills to support the trans and gender diverse community of WA.
$1000 pays for us to attend a regional event where we can celebrate gender diversity. We love being visible, bold and bringing positivity, respect and understanding to areas in WA that otherwise wouldn't have contact with a trans community organisation.
To make a bigger impact, you can select to contribute a regular donation which will help make TransFolk of WA's programs more sustainable!
Support our Pay-it-Forward Binder Program
Our Binder Program provides free binders to those who would otherwise by unable to buy one.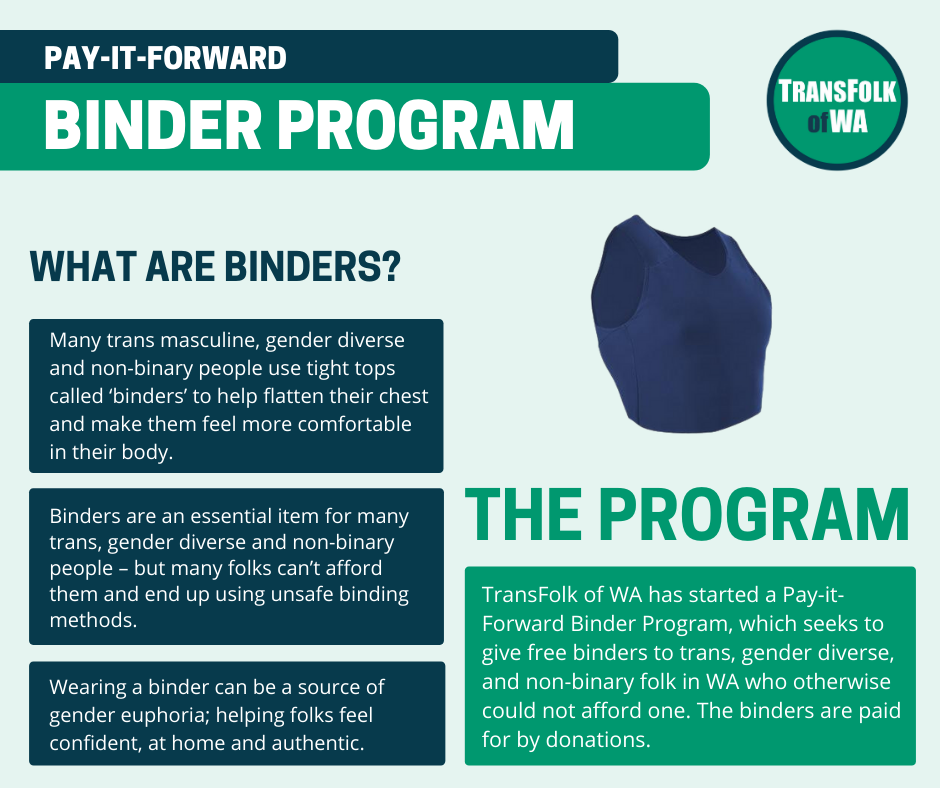 ALL* of the donations received to our Binder Program go directly towards supplying folks in need with binders. Your donation helps pay for binders and shipping. (*minus any online platform fees from GiveNow)
Thank you for supporting this program and helping trans and gender diverse people feel more at home in their bodies!
An $90 donation gives a binder to one person.