Our Binder Program provides free binders to those who would otherwise by unable to buy one.
We know how hard it can be to afford a binder and so this program makes sure folks have access to a free or low cost binder.
This program is only possible thanks to generous donations and a small grant from Lotterywest.
For more info about binders and safe binding practices head to
TransHub. 
Program Eligibility:
Live in Western Australia
Currently experiencing financial hardship
(We don't ask any invasive questions about your situation, we just take your word for it)
Any age
Click here to head to the Binder Program registration form.
Or you can fill out the form further down on this page
If you live somewhere else in AUST or NZ, you can apply to Sock Draw Heroes binder program.
HOW DOES IT WORK?
Complete the online form including your contact details and measurements.
The measurement questions are in section 2 of the form, so once you enter your details you can move to that page. The questions explain how to measure. For tips about how to measure head to Amor Binders.
Optional survey: There are some optional questions at the end of the registration form about what having a binder would mean to you. The info and quotes we collect from the survey help us show the value of the program and helps encouraging more people to donate to the program.
A team will get in contact with you within 2-3 weeks to let you know if a binder is being posted to you (due to covid, we aren't hosting a collection point).
Postage: The external packaging won't have any mention of binders or TransFolk of WA.
Worried about the binder being posted to your home address? You can let us know in the form where you would like it shipped to – this could include a friend's address or a local organisation like a youth org (just make sure to let us know the contact's name and to have checked with them first).
There is a limited number of binders available, so this program is first in best dressed. We aim to keep this program ongoing but this is dependant on donations and fundraising.
ABOUT THE BINDER:
We stock Amor racerback binders in black and light blue.
Amor Reversible Racerback chest binder is designed to compress and give a flatter appearance to the chest, while also being comfortable and safe to wear.
The binder is double layered, with fully enclosed seams – so there are no internal seams that dig in. For those with extra sensitive sensory needs, it can be reversed and worn with the binding panel on the outside. Proudly designed and made in Australia by an autistic trans person. Amor Binders are made from sustainable materials.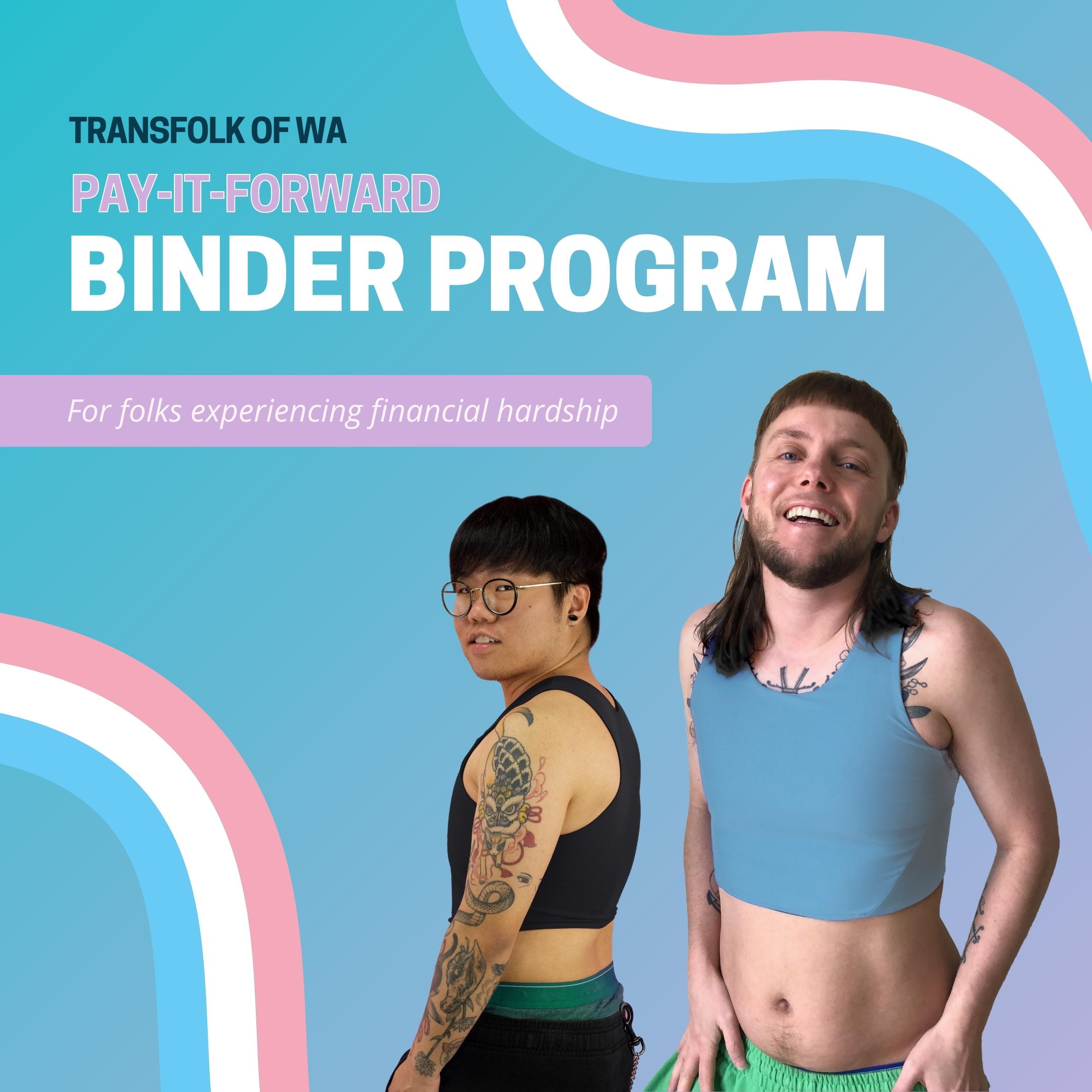 Impact of the program
We did a survey about our binder program and these are some of the things people shared with us. You can read the full 2022 report here.
Help sustain this program
Many trans masculine, gender diverse and non-binary people use tight tops called 'binders' to help flatten their chest and make them feel more comfortable in their body. Wearing a binder can be a source of gender euphoria; helping folks feel confident, at home and authentic.
Binders are an essential item for many trans, gender diverse and non-binary people – but many folks can't afford them and end up using unsafe binding methods.
You can help us change this. Donate to our 'Pay it Forward Binder Program'.
ALL* of the donations received to our Binder Program go directly towards supplying folks in need with binders. Your donation helps pay for binders and shipping.
(*minus any online platform fees from GiveNow)
Thank you for supporting this program and helping trans and gender diverse people feel more at home in their bodies!